Today, your website is your most valuable marketing asset. It's the first 'port of call' for anyone who wants to find out more about what you do and decide whether you are the right company to solve their problem. It is essential therefore, that your website takes the customer on a journey and does what you want it to do…. it must engage and capture the attention of your audience and highlight the benefits of working with you… whatever stage of the buying process they are at.
Two essential factors determine whether your website can and will do its job.
1. Can your potential clients find you online? This is where 'SEO' helps differentiate you from your competitors and find opportunities to rank ahead of them in a Google search.
2. Once they find you, is your website engaging enough to take them through the buying stage and take action? This is where the value of 'Content Marketing' comes into play
Within these two aspects there are dozens of strategies, tactics, do's and don'ts and approaches that have an impact on the success of your website.
If you talk to a website designer or an SEO (Search Engine Optimisation) expert (you will need both for that fabulous website), they are likely to confuse you with techie jargon that will almost shut your mind down… words like keywords, pillar pages, landing pages, hero images, topic clusters, customer journey and the like. Fear not… in this article, we'll break it down, giving you a summary of what's most important to make sure your website is doing what it should and uphold your company's brand.
With the Internet saturated to the hilt, how does your potential customer find you? It used to be that keywords (or words searched for most frequently in your industry), were how your website was found. But now everyone knows those keywords. There are easy access tools to find the most used keywords in your industry.
The way forward is to establish you and your company as authorities in your industry. And you do that by regularly publishing useful information on your website. Google's algorithms (essentially a complex system used to find the most relevant information in response to a query on Google search), will find your website if it answers the most closely, the query someone put in the search box.
One of the ways of making Google find you is through what is known as pillar pages and landing pages.
According to content marketing guru, Hubspot, "a pillar page is a website page that covers a broad topic in depth and is linked to a cluster of related content."
So, for example, let's say your business is a law firm…your pillar page topic could be (assuming your SEO person has done the research for keywords and searched topics), "Employment Law." This would be the broad topic. This would cover various aspects of employment law briefly such as employee contracts, maternity leave, paternity leave, gender parity policies, equal opportunities and the like. Each of these topics would then, over time, be developed into their own blogs, which would be linked through from the main employment law pillar page. This would create a web of information on almost everything there is to know about employment law. Makes sense?
If you'd like to learn a little more about Pillar Pages and how they work, give us a call on 020 7112 9068 or drop us a line at [email protected].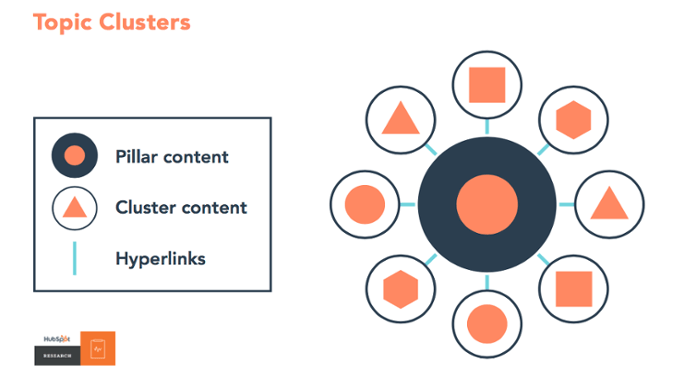 What are landing pages? Once again, according to Hubspot, "landing pages are essentially website pages designed to convert visitors into leads."
The premise of the landing page is that the customer lands on a page which requires them to fill in their personal information to access further information… e.g. download an eBook, get a quote or something like that.
The challenge is to use landing pages and pillar pages in such a way that they work together in bringing potential customers to your website, but also enticing them to act on the Call To Action (CTA) or the instruction to pick up the phone, download something or get in touch via email.
Content Marketing and SEO experts believe that these two can be combined by starting out with a landing page (because pillar pages take time to build), and slowly adding more and more to it as your pillar page gets built.
The strategy, in simple terms, give your customers a taste of the information they want on the landing page and get them to 'pay' for further information by entering in their emails or phone numbers, to access the rest of the useful information which is on the pillar page.
All this can get confusing. We understand that. That's why we offer a 90-day Brand Elevator Package, that will propel your branding and website through design, SEO and content marketing to get it working as an effective marketing tool as quickly as possible.
Somer Design has, over the years, built the skills and capabilities to create and promote brands and companies through a mix of all the areas discussed above. If you believe we can help you take your brand to the next level, please do give us a call.
Our contact details are: tel: 020 7112 9068, email: [email protected] or you can fill up the contact form on our website for us to call you.