Brand Identity | Brand Strategy | Website Design | Marketing Collateral | Digital Marketing
A Security Systems Expert Looking for a Website and Content Overhaul
ai security are a team of industry certified professionals with years of experience bringing customers tailor made CCTV and security systems. While they're the experts in installation and maintenance of security technology, their original website was outdated and unable to run efficiently, interrupting their user experience and needed a fresh update with the latest technology.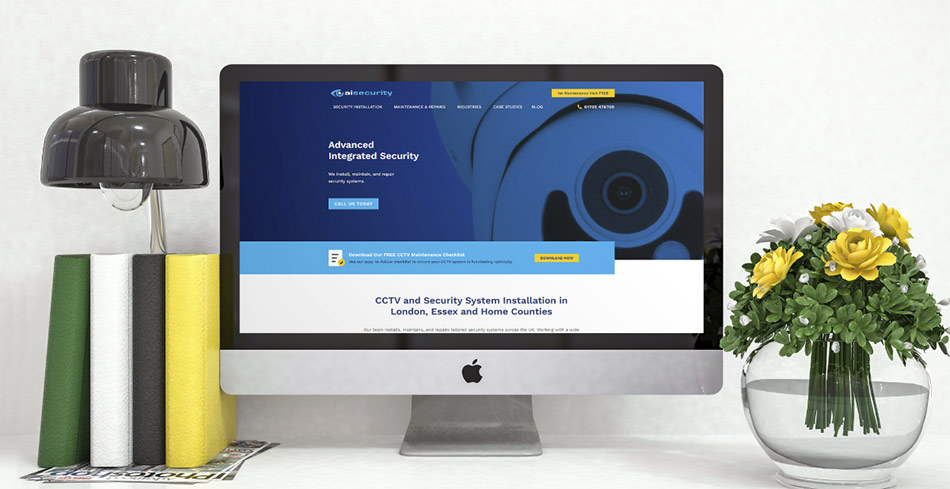 ai security were struggling to stand out in their online marketplace. Their website was slow and needed to go deeper into content that would align with their target audience and be of benefit, which in turn would be able to improve their reach within the niche industries they work in. We were brought in to rebuild the websites overall performance, navigation and optimise the content to realign their website with what we researched about their target audiences. We coupled this with a digital marketing campaign to help establish ai security as credible experts in their field across London and the Southeast.
We completed a digital audit to identify their main problem areas and began with their website. We redesigned and organised the space focusing on performance and user quality. Our initial focus was to improve the speed of the website to enhance the user experience and increase engagement. A pillar page was also added which housed all the relevant information their audience would need to create a complete authoritative guide for CCTV repairs and installations, optimised with keyword research, which allowed for better navigation, made them more visible online and improved credibility in the industry.
We followed this up with a content audit, and defined their social media presence, developed informed articles surrounding their services and created free checklists and brochures to further advertise their industry knowledge and build confidence in their audience.

A streamlined website that features as an informational hub establishing trust and credibility with the niche industries it targets. With a greatly improved performance and user experience, and well researched SEO friendly content throughout ai securities new website was a booming success.