Let's begin with a simple question… when you want to make a purchase, whether it is a product or a service, what is the first step you take? We can almost guarantee that 9 out of 10 people will say, "go to their website." It's what we do now; it's how we shop. Your website is the face of your company; the first port of call for your target audience, so it is, in our opinion, THE most important tool to get your potential clients interested.
What are these potential customers looking for when they visit your website, especially if you are a motivational speaker or leadership coach? Answers to their questions – yes of course, but more importantly, they are looking for a reason to trust you; that you have their best interest in mind with your product or service offering. And with clever and authentic website design and content, you can do that.
According to a research study conducted by the Nielson Norman Group, websites and website design have a Pyramid of Trust, much like Maslow's Pyramid of Needs. According to the Pyramid of Trust, site users progress through 5 levels of commitment on a website starting from the bottom, in order to build enough trust to make a commitment (purchase).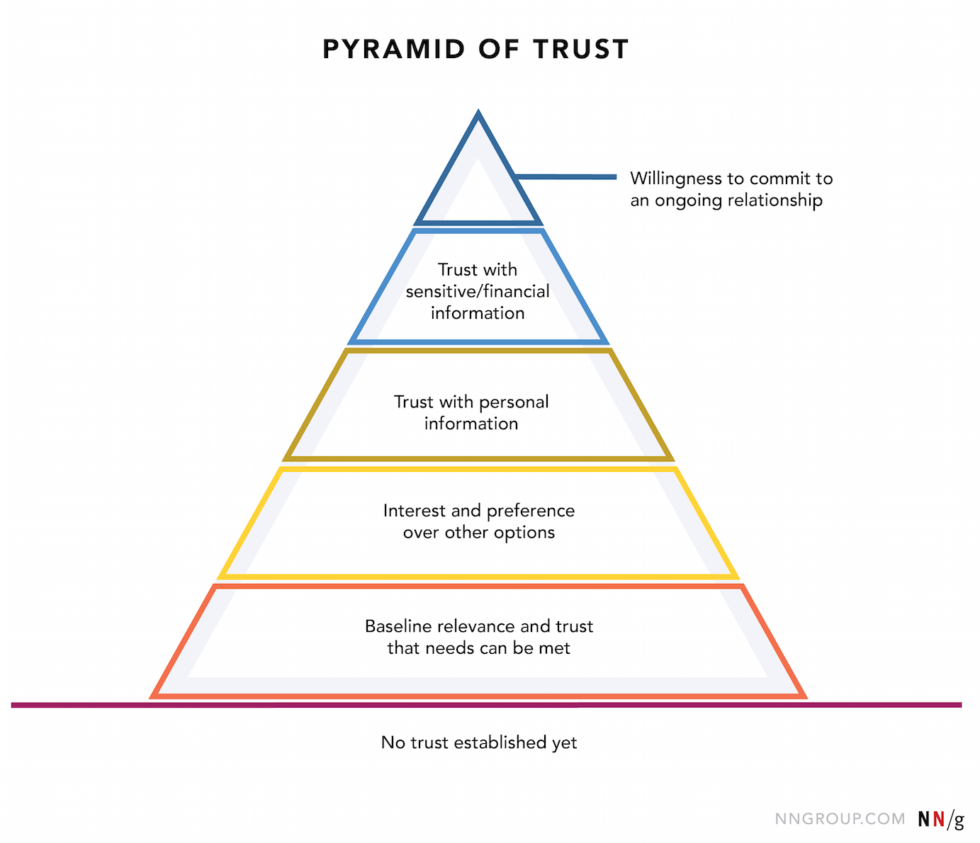 At each level of commitment, people have different needs. Once these needs are met in a satisfactory way, users will be more likely to trust your site and progress to the next level. At each stage your website needs to answer deeper and deeper "levels of trust' questions… and these can be answered through a combination of visuals and content.
For example, some of the questions that need answering at each stage could be:
Stage 1: Could this site help me accomplish my goal? Is it credible and can I depend on this information? Does it seem to have my best interests at heart?
Stage 2: Do I choose to use this site for this task? Is it better than other options?
Stage 3: Is this site's offering valuable enough to justify the time and effort to register? Do I trust the site with my personal information? Do I want emails from this company?
Stage 4: Do I trust this site to securely use and store my sensitive data (e.g. credit card, street address)? Is it worth the risk?
Stage 5: Am I comfortable enough to establish a continuous connection with this site (e.g., recurring charge, linking with other accounts)?
Now that we've established what we need from our website for our current and potential customers let's talk about how we can achieve this. From our experience, there are a few key practical tools in website design and content strategy that gives clients an immediate sense of comfort and trust.
Make your 'About us' section real and personal. When people visit the about us page (and we all do…mostly), we want to read something authentic and heartfelt. Convey your ethos, passion and vision for your clients to understand your values.
Whilst websites are our first port of call, we want to see the people behind the company, their credentials, their experience and their competence. A comprehensive 'meet the team' page gives you the opportunity to humanise your product or service. If the 'characters' in your team are likeable and trustworthy, it will instantly establish an emotional connection to your offering. As a motivational speaker, if you do have a team, introduce them to your potential clients. Who you hire is, after all, a reflection on yourself and your values.
Testimonials are a great way to share how happy your customers have been. From a design perspective, we would recommend them being spread across the website in different sections, rather than having a dedicated testimonials page.
We highly recommend a Case Studies This allows potential customers to understand the real value your service offering by showcasing a real story on how you 'solved' a problem.
If you have won Certificates or Awards, don't be shy about sharing them. It adds to your gravitas and authority. From a design perspective, we'd recommend having these as a footer across all pages of your website… as a constant reminder .
Use high quality, high resolution One of the most off-putting elements on a website is blurry, uninspiring images. And make sure your images reflect your tone and offering. For example, if your target audience is diverse, your images should reflect that… don't have images of only Caucasians on there.
Your website colours have an unconscious impact on your audience. So, make sure you choose colours that reflect your image. For example, if your target audience is accounting firms, you may want to choose subtler tones. On the other hand, if you are a motivational speaker for mainly tech start-ups, you could you more casual, brighter colours.
Last, but not least… and this is a technical requirement, make sure your website is secure. The sign of site security comes in the form of a HTTPS rather than a HTTP URL and is made obvious by the padlock to the left of the URL. Discuss this with your web developers and ensure it is done.
Somer Design has, over the years, built the skills and capabilities to create engaging and inspiring websites that emphasise the importance of the customer journey, ease of use and most importantly getting your audience to trust your company and its offering.
If you believe we can help you take your brand to the next level, please do give us a call. Our contact details are: tel: 020 7112 9068, email: [email protected] or you can fill up the contact form on our website for us to call you.