In such a rapidly growing industry, how can you cut through the clutter? Effective marketing is crucial for coaches and consultants but perhaps your marketing campaign isn't doing your brand justice. If you're struggling to assess your success, it may be time to seek the help of an expert.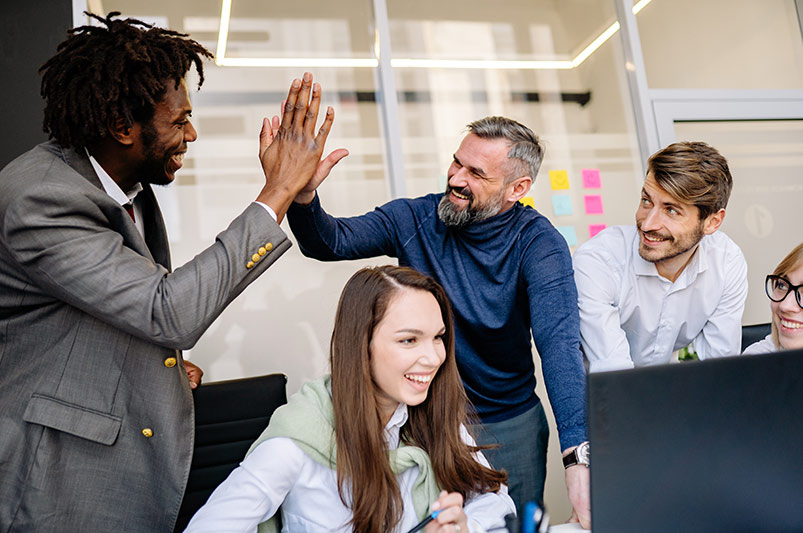 Read on to find out if your marketing strategy is earning the right results and reach out to us at Somer Design for more assistance.
How to Know if You're Getting Results
There's a lot to consider when calculating your return on investment in marketing. It's easy to get overwhelmed when comparing the numbers, so here are a few key indicators of results…
You Have a Large (And Growing) Online Community
We understand that social media is crucial in the coaching industry for building your online presence, hence the importance of a largely growing community. The most significant part here is 'growing' – new coaches likely won't have a huge following just yet but calculating your growth rate can be a great indicator of a positive trajectory.
Is your audience base plateauing or declining? This is an indicator that something needs to change.
Your Content Attracts High Rates of Engagement
Think about your last couple of content posts; how many people actually interacted them? Did they click away or continue to scroll? If you're seeing a consistent amount of likes, comments, shares, and returning users – great! This means your content strategy is working to generate engagement. You also want to pay attention to your ratio of followers to interactions – how many of them are ghosts?
If you're unsure how to grow your engagement, get in touch with us at Somer Design to discuss.
You Have an Online Product
The reality of the digital age is more often than not, people would rather buy products in the most convenient way possible. If you already have a successful online product you're headed in the right direction. In the coaching industry this product is more often than not useful written or video material, suitable to your audience. It could be a step by step guide for career development or relationships. It could incorporate informative case studies or personal anecdotes. Whatever it is you do well – put it into a digitally digestible format that can be a useful tool for your clients.

Your Business Revenue and Stats are Growing
Above all, the clearest indicator of marketing success is growth in revenue and measurable statistics like sales. You may not see a huge increase in profits in 24 hours but it's important that these are steadily growing over time. An increase in marketing growth and audience responsiveness indicates a strong return on investment.
A few desirable statistics for coaches in digital marketing:
A high click-through rate: an indication of audience engagement in your marketing efforts.
A high organic search rate: users are naturally finding your site without advertising or another link.
A high conversion rate: people are actually being converted to trial your product (or achieving another desired result from your marketing efforts).
A high response rate: the speed and quality to which your audiences are interacting with your content.
A high engagement ratio: the ratio of your followers versus engagement.
A high keyword ranking: your site is positioned high amongst other similar search results.
When to Call in a Marketing Expert
Now that you've assessed your position, it's time to decide if you need the help of an expert. Rather, are your numbers at a stand still or headed downwards for unknown reasons? Sometimes you may have all the right facts and numbers but you simply don't know what to do with them. Recognising the problem is the first step to solution, but if you're not sure how to tackle it, now's the time for some extra helping hands.
How an Expert Can Help Your Coaching Business
So what exactly can an expert do for your coaching or consultancy business?
Clarify Your Message
Perhaps your message isn't clear enough or just isn't connecting with your audience the way you'd hoped it would. A marketing expert can help you establish what exactly your coaching business is trying to say to clients. This might involve a combination of copywriting, social media content, blogposts, online advertising and branding techniques all designed to covey a distinct and cohesive brand message.
At Somer Design, we can help create an integrated and impactful message across your digital channels.
Craft Your Offer
It should be crystal clear what your coaching services offer to clients. This should be both in the tangible product but also the augmented product level. Consider what the key benefit of your product is and what problem it is solving for the client. At the end of the day, a customer will only want to buy into your services if your offer is appealing – an expert will help to differentiate this from competitors.
Increase Online Engagement
With a digital marketing strategy, we can target specific goals in an actionable and results-driven approach. Not only will a marketing agency help you to implement your desired strategy, they should continually review, analyse and improve this to ensure you are getting maximum return on investment. This is a key part of our digital marketing packages at Somer Design, where our focus is results-driven.
Convert those Sales
A digital marketing agency will make use of marketing metrics to focus on results and ultimate customer conversion rates. Adopting an integrated approach will ensure you are reaching your prospective customers at every point of their journey. An expert will help you achieve this, with tools and techniques best suited to your specific niche.